MyVisionTest News Archive
Feb 6, 2008
Star-Struck Student Aspires to be First Blind Astronaut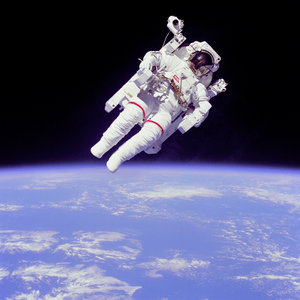 Galaxies and constellations burst to life beneath Chelsea Cook's fingertips as she touches the pages of a book.
Textured images of outer space help the legally blind 15-year-old "see" them in "Touch the Invisible Sky," a book by astronomer Noreen Grice. The textures mimic Braille, a series of raised dots that form characters read by touch.
Cook, a sophomore at the Denbigh High School Aviation Academy.
"Her books mean a lot to me," Cook said. "I got her to sign all of them this time."
Grice, an astronomer at the Museum of Science in Boston, writes the only astronomy books with visuals that are for both blind and sighted people.
Her first such book, "Touch the Stars," was released in 1990. Grice said she use a Braille printer to trace out the constellations and in her next book, "Touch the Universe," used thin plastic sheets to etch Braille versions of photos taken by the Hubble Space Telescope.
Cook has been hooked on astronomy since picking up one of Grice's books at age 10. She aspires to be the first blind astronaut and wants to study astrochemistry or astrophysics.
She's not the only blind student with that aspiration.
In 2004, NASA partnered with the National Federation of the Blind's Jernigan Institute to create a five-week internship for blind graduating high school seniors and college freshmen.
"I believe that the first blind astronaut is alive today," Al Diaz, former director of NASA Goddard Space Flight Center, is quoted as saying at the institute's grand opening.
Read more...
WTOP News
Tags: