MyVisionTest News Archive
Jan 23, 2008
Recipe for success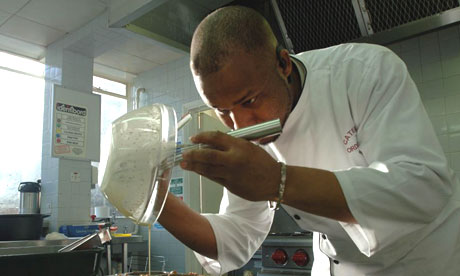 In the busy kitchen of a factory canteen John Charles and his team are cooking roast beef and yorkshire pudding for the 70 or so workers due to pour through the doors in an hour or so. Nothing too unusual, except that Charles and half of his 15 staff are blind or partially sighted.
Because of Charles' success, Action for Blind People is launching a new initiative, Enterprise in Sight, which seeks to help blind and visually impaired entrepreneurs with good ideas to get started in business.
In the UK, 66% of blind or partially sighted people of working age are unemployed. Andy Taylor of Action for Blind People, who coordinated the setting up of Charles's catering company, says: "We wanted to find a way to lift blind or partially sighted people out of poverty. Jobs are now more service-based. We need to address that and train people to have those skills."
The success of Charles's company, Catering2Order, shows that the model works. Before Action for Blind People stepped in, Charles had been unemployed for eight years. He went blind after finishing a business degree, following months of headaches. (He has cranial hypertension and the pressure crushed his optic nerve). "Social services turned up and gave me a stick and a dog, but I knew I wanted to cook and run my own business," he says. He put together a business plan and tried to get a bank loan. "I was turned down," he says. But at Action for Blind People Charles found faith in his idea.
So far, Action for Blind People has helped some 40 businesses with advice and training. Its Enterprise in Sight programme now aims to help 30 more visually impaired entrepreneurs into self-employment or business start-ups.
"We just want to find people who wouldn't normally get this sort of help," says Causton. "It can change their lives."
Read more...
Guardian Unlimited
Tags: